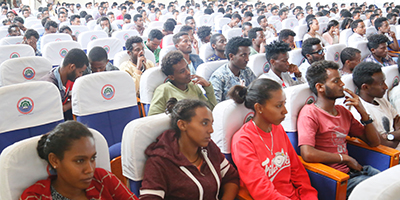 Assit. Prof Mihretu Shanko has delivered a special motivational speech at Adama Science & Technology University. The session was organized for first-year students. The managing council also attended the session. The theme of the session was, "The road of visionaries". Mr. Mihretu used this theme effectively to inspire the students to plan their career development. He encouraged the students to plan about excelling at higher levels than being preoccupied with routine obstacles that they face. He underscored that challenges are meant to strengthen, but not to derail mankind.
Mr. Mihretu, a well versed energetic motivator, made a lively presentation filled with perfectly fitting anecdotes. The audiences were lost for words of appreciation for the presenter and the manner of presentation. The audience applauded the presenter many times. Those who attended the session have suggested that ASTU shall keep up organizing more inspirational sessions for all its community.
Well done!!
To all 2017 (2010 E.C.) National Higher Learning Institutions Entrance Exam Achievers (Ethiopian Students),
Adama Science & Technology University (ASTU) wants to recruit and teach new students with special talent and interest in applied natural science and engineering
Students who have scored passing matriculation results in natural science can apply as per the criteria and dates notified by the FDRE Science and Technology Ministry
Choose Adama Science & Technology University (ASTU)
We are unique in:
1. Providing student friendly, swift quality services with special treatment to freshman (1st year) students;
2. Recruiting well qualified and experienced academic staff both from local and abroad;
3. Enriching students' knowledge & skills through e-Learning in addition to classroom face-to-face teaching & learning; we have the state of the art e-studio in this regard;
4. Well designed academic programs with a number of options in the fields of science and technology by benchmarking top universities in the world; They give opportunity for the students to design their own curriculum;
5. Providing fast track for advanced degree to extra-ordinary, outstanding students by exempting some courses through giving special exams and finish their study in time;
6. Providing dual major and/ or minor degree opportunity to outstanding students by allowing them to take more courses at a time;
7. Providing direct scholarship of further education to its outstanding graduates;
8. Well developed educational infrastructures (Superfast wireless broadband internet; well furnished modern ICT Centers for e-Learning; a maximum of 3 students in a dorm, etc);
9. Adequate libraries that serve 24 hours for 7 days a week
10. We have an independent full flagged library for female students;
11. Academic achievement Promoting environment (ASTU awarded outstanding students about 538 latest laptop computers, iPads, and Tablets in 2016 and 2017 academic years);
12. Good relationship with many national & international institutions to get our students scholarship for short term and long-term internship programs;
13. We have Huge Research Park for staff and student researchers with 8 nationally recognized centers of excellence to enable us provide research based education and copy, adapt, innovate and transfer technologies;
14. Green and attractive compound with moderate whether condition (neither hot nor clod);
15. Situated in Adama City, the pearl of the Great Rift valley, only 40 minutes drive to the eastern part of Addis Ababa/ Finfinne,
So, Choose, Adama Science and Technology University and Design your own curriculum to become a high level scientist and engineer and be a member of transformation!
Read Amharic translation of this page
Adama Science and Technology University,
Adama