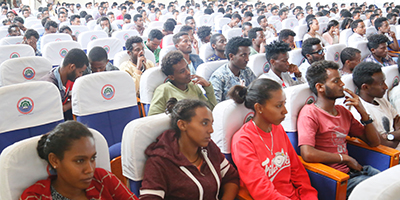 Assit. Prof Mihretu Shanko has delivered a special motivational speech at Adama Science & Technology University. The session was organized for first-year students. The managing council also attended the session. The theme of the session was, "The road of visionaries". Mr. Mihretu used this theme effectively to inspire the students to plan their career development. He encouraged the students to plan about excelling at higher levels than being preoccupied with routine obstacles that they face. He underscored that challenges are meant to strengthen, but not to derail mankind.
Mr. Mihretu, a well versed energetic motivator, made a lively presentation filled with perfectly fitting anecdotes. The audiences were lost for words of appreciation for the presenter and the manner of presentation. The audience applauded the presenter many times. Those who attended the session have suggested that ASTU shall keep up organizing more inspirational sessions for all its community.
Well done!!
Background
Unlike other universities in Ethiopia, Adama Science and Technology University (ASTU) established a system whereby students can design their own curriculum that fit their personal interest and future plan under three engineering schools and an applied natural science school. In relation to this, the office of undergraduate was established in ASTU for the provision of vigorous academic leadership in all matters relating to undergraduate education such as supervising admission and placement of students, monitoring effectiveness of the department curricula and academic services to meet students and stakeholders demands, ensuring the provision of quality education, and creatong opportunities for all ASTU students to learn and develop personally through experiences outside the university.
Mission
It has a mission of "ensuring quality education and training in science and technology to produce graduates who can primarily contribute to the country's economic and social development." The office achieves this mission by disseminating gained and discovered knowledge and skills through high quality research based teaching that inspires and actively engages students, and professionals. Moreover, the office facilitates the integration of students with communities and other stakeholders.
Goals and objectives
Goals and objectives of the office which are related to admission and placement, provision of quality education, ensuring the effectiveness of undergraduate curricula and academic service, and student, staff and community development are to:
attract and retain best students through coordinated promotion of the university and the provision of consistent and effective academic and personal support for student learning and development, and
provide an affordable, but high quality education by focusing on research based learning and employing educational technology and administering continuous assessment and standard examination
engage students with communities and clients' problems outside the university, targeted outreach activities, commissioned research projects with industries and etc
review the effectiveness of curricula periodically
Main Activities
• Ensuring effective student admission, registration, retention, and degree completion processes and other activities.
Ensuring the proper maintenance of student records in schools in accordance with guidelines to be set by the Office of the Students Admission and Registrar.
Planning and executing the plan of the activities and budget for UG program
Collecting and compiling students' data from a variety of sources.
• Directing and monitoring the teaching learning process to foster excellence in teaching.
• Monitoring, coordinating and facilitating workloads, course schedules, class delivery, administration of examinations and other teaching learning activities.
• Developing course catalogue and period review of the catalogue.
• Facilitating inter-school course delivery, local and international internships, and student industrial and related visits.
• Preparing guidelines for improving operational efficiencies of the aforementioned academic activities.
• Addressing student inquires and complaints.
• Overseeing the implementation of fast track, dual major and minor study and other academic events in the university
• Developing and implementing new ideas and practices to enhance the academic experience of students
• Identifying and implementing best practices in undergraduate teaching-learning, academic advising, and resource utilization
• Engaging students with communities and clients' problem outside the university
• Ensuring effective use of available resources
• Creating partnership to advance education and undergraduate research