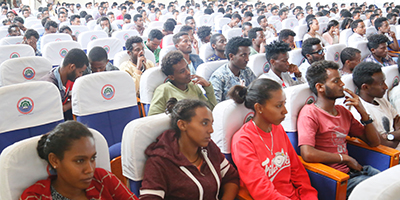 Assit. Prof Mihretu Shanko has delivered a special motivational speech at Adama Science & Technology University. The session was organized for first-year students. The managing council also attended the session. The theme of the session was, "The road of visionaries". Mr. Mihretu used this theme effectively to inspire the students to plan their career development. He encouraged the students to plan about excelling at higher levels than being preoccupied with routine obstacles that they face. He underscored that challenges are meant to strengthen, but not to derail mankind.
Mr. Mihretu, a well versed energetic motivator, made a lively presentation filled with perfectly fitting anecdotes. The audiences were lost for words of appreciation for the presenter and the manner of presentation. The audience applauded the presenter many times. Those who attended the session have suggested that ASTU shall keep up organizing more inspirational sessions for all its community.
Well done!!
The Ethiopian Science, Technology, Engineering, and Mathematics (STEM) Network in North America is an informal network of academics and professionals of Ethiopian heritage and other friends of Ethiopia in the United States and Canada.
The objective of the group is to help applied science and engineering education and practice in Ethiopia through teaching, sharing research and development experience, and gathering material and financial resources.
Early on the following modes of involvement were identified for professionals based in North America to support mainly Science and Technology institutions in Ethiopia by providing:
Short stay for guest lecturing

Spending sabbaticals or similarly long terms in home institutions

Permanent employment

Adjunct faculty positions

Teaching classes online (videos, forums for discussion, short visits when needed/possible)

Running workshops aimed at students and/or local faculty – research results, teaching methodologies, best practices from academia and industry

Carrying out joint research with home faculty

Supervising (alone or jointly) graduate thesis

Helping with resources – books, lecture notes, digital libraries, content management systems, laboratory, teaching aids, software etc

Advocacy and fund raising
While the group was established as a grass root network of professionals interested in giving back to the homeland, it has gradually established strong working relationships with the Adama and Addis Ababa Science and Technology Universities, the Ministry of Science and Technology, and the Ethiopian Permanent Mission to the UN in New York City.