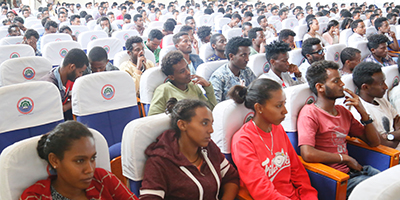 Assit. Prof Mihretu Shanko has delivered a special motivational speech at Adama Science & Technology University. The session was organized for first-year students. The managing council also attended the session. The theme of the session was, "The road of visionaries". Mr. Mihretu used this theme effectively to inspire the students to plan their career development. He encouraged the students to plan about excelling at higher levels than being preoccupied with routine obstacles that they face. He underscored that challenges are meant to strengthen, but not to derail mankind.
Mr. Mihretu, a well versed energetic motivator, made a lively presentation filled with perfectly fitting anecdotes. The audiences were lost for words of appreciation for the presenter and the manner of presentation. The audience applauded the presenter many times. Those who attended the session have suggested that ASTU shall keep up organizing more inspirational sessions for all its community.
Well done!!
Vision
A model center that excels in ICT infrastructure for academic, research and community service in Africa.
Mission
Creating a conducive teaching-learning, research, community service, management, and administration environment with ICT support.
Providing reliable and adequate network infrastructure.
Automating teaching-learning process.
On-time user support.
Delivering fast and reliable Internet and Intranet service on 24/7 for ASTU communities.
Automating business process
Securing ASTU network from any treats internal or external.
Ensuring the quality of ASTU ICT equipments.
ICT consultancy and training.
Conducting research in ICT.
Delivering ICT research outcomes, and professional application software's.
Mandate Analysis
Exclusively managing, insuring quality, monitoring and maintenance of any ICT related equipments.
Discarding any ICT equipments should be approved by ICT Directorate.
Any application software's that are installed on ASTU ICT equipments should get the approval of ICT Directorate.
Preparing ICT Policies, standards and guidelines.
Request for any proprietary application software's and operating systems should be first approved by ICT before further processing.
Managing, maintaining, upgrading and expanding of the network infrastructure, ICT Pools, SMART Rooms.
Contact Address
Kasahun Gelana Micho, Information Communication Technology Directorate Director
Phone: - +251-22-111-3177
Mobile: - +251-911-505235
Email: -

This email address is being protected from spambots. You need JavaScript enabled to view it.
POB:- 1888