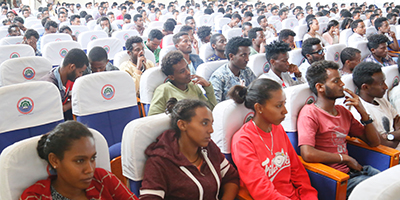 Assit. Prof Mihretu Shanko has delivered a special motivational speech at Adama Science & Technology University. The session was organized for first-year students. The managing council also attended the session. The theme of the session was, "The road of visionaries". Mr. Mihretu used this theme effectively to inspire the students to plan their career development. He encouraged the students to plan about excelling at higher levels than being preoccupied with routine obstacles that they face. He underscored that challenges are meant to strengthen, but not to derail mankind.
Mr. Mihretu, a well versed energetic motivator, made a lively presentation filled with perfectly fitting anecdotes. The audiences were lost for words of appreciation for the presenter and the manner of presentation. The audience applauded the presenter many times. Those who attended the session have suggested that ASTU shall keep up organizing more inspirational sessions for all its community.
Well done!!
Mission
The mission of Adama Science and Technology University Library is to foster intellectual growth, academic success, and lifelong learning for the students and staff of the university. ASTU as academic library which serve the university community that adds a value in the teaching learning process by providing the relevant information resources for students and university community.
To achieve this mission ASTU Library provides 7 days per week for 24 hour services for its customers.
Type of library services
Circulation service
Loan service
Multi-media service
Internet service
Reference service
Documentation service
Additional service
Reserved spaces for disable student
Digital counter system for users
Separate Library for female student
Resource and collection
The available collection excluding periodicals is about 115,000 volumes of books and documents of different subjects.
The Library is using open system based on Dewey decimal classification/DDC/ scheme.
Library Technology based service
Digital Library:The library has implemented Digital library using Greenstone Digita library software. Digital contents (eBooks and e-Journals) are organized, built and accessible for users via internet in the campus network.
Koha: To support the manual Circulation services, the library also implemented library automation system using Koha integrated library management software. The library patrons can use e-Catalog services (OPAC) to select the type of books they need to borrow from the library online.
DSpaceDigital Repository: ASTU Library has implemented Institutional Repository (IR) system using DSpace digital repository software to collect, manage, preserve and disseminate collections of digital content generated by school, staff, students at ASTU.