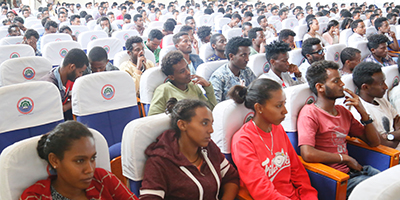 Assit. Prof Mihretu Shanko has delivered a special motivational speech at Adama Science & Technology University. The session was organized for first-year students. The managing council also attended the session. The theme of the session was, "The road of visionaries". Mr. Mihretu used this theme effectively to inspire the students to plan their career development. He encouraged the students to plan about excelling at higher levels than being preoccupied with routine obstacles that they face. He underscored that challenges are meant to strengthen, but not to derail mankind.
Mr. Mihretu, a well versed energetic motivator, made a lively presentation filled with perfectly fitting anecdotes. The audiences were lost for words of appreciation for the presenter and the manner of presentation. The audience applauded the presenter many times. Those who attended the session have suggested that ASTU shall keep up organizing more inspirational sessions for all its community.
Well done!!
Background
As part of its mandate, our University's International Relations and Corporate Communications Directorate is a pillar of the university and works closely with Schools, the University's administration, students and staff. IRCCD is committed to develop communication strategies for the distribution of academic wise contents and research works through local, national and international news media as well as via online social networks.
The Office is also responsible to create the communication channel between Adama Science and Technology University (ASTU) and the public. It proactively informs the media (print, voice, TV), supports and consults the Managing Council and the Deans in public relations aspects.
International Affairs and Public Relations Directorate will work with individual Schools and institutes and centers to build a strategic communications plan to increase awareness and visibility of the research, expertise, accomplishments and mission and vision of ASTU.
The Office strives to build a positive image of ASTU in the public opinion and supports the President in international communication, fund raising endeavors and alumni relations. It jointly works with the University's managing council and creates a corporate identity and a corporate design of activities with various work processes and units.
The General Objective of IRCCD:
To establish effective and smooth local and international relations and provide current information so as to enhance the transformational activities of ASTU in its endeavor to become the centre of excellence in science and technology.
Sub Objectives:
To promote and build academic excellence into every process of the University; ranging from Schools to department level and strengthen ASTU's local and external relations on the basis of the core values and principles the University.
To provide necessary and accurate information available to academic and administrative staffs and students to facilitate informed decision making in very important issues.
To facilitate cooperation and collaborations with various local and international universities and organizations for strong partnership.
What we do
Maintain internal and external communications of ASTU and create links with local and international universities;
Provide general information about the services offered by the University such as teaching, research, community services and administrative procedures to customers
Prepare listening point for any claims, suggestions or comments regarding the University;
Edit ASTU's annual report, prepare and distribute magazines, newsletters, brochures and flyers, hold press conferences, take care of media releases, get access to the University web portal and supervise and update the official website of the University regularly;
Facilitate custom clearance issues for donations delivered from foreign countries,
Facilitate the issuance of visa and residence ID card for expatriate staffs;
Organize and facilitate local and international conferences, seminars, workshops and arranges media releases;
Contact IRCCD
Kasaye Gutema (PhD)
Director, International Relations and Corporate Communications Directorate
Email: This email address is being protected from spambots. You need JavaScript enabled to view it.
Tele: +251- 22-211-36-61
Building 504