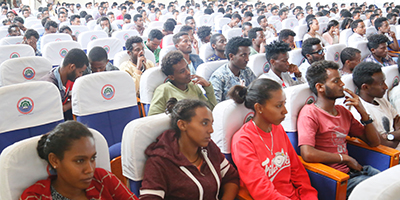 Assit. Prof Mihretu Shanko has delivered a special motivational speech at Adama Science & Technology University. The session was organized for first-year students. The managing council also attended the session. The theme of the session was, "The road of visionaries". Mr. Mihretu used this theme effectively to inspire the students to plan their career development. He encouraged the students to plan about excelling at higher levels than being preoccupied with routine obstacles that they face. He underscored that challenges are meant to strengthen, but not to derail mankind.
Mr. Mihretu, a well versed energetic motivator, made a lively presentation filled with perfectly fitting anecdotes. The audiences were lost for words of appreciation for the presenter and the manner of presentation. The audience applauded the presenter many times. Those who attended the session have suggested that ASTU shall keep up organizing more inspirational sessions for all its community.
Well done!!
D

esign your own curriculum

ASTU offers a new system in that you are allowed to design your own currculum to fit your interest.
G

raduate with an honors degree

Your outstanding academic performance will be recognized through "Honors degree"
B

e innovative through Capstone Design Project

You will be involved in a project a capstone which requires innovative thinking and orginal approach.
B

ecome scientists & technologists of the future
ASTU works exclusively on science and technology fields benchmarking top science and technology university such KAIST to produce the future scientists and technologists.
B

e a member of transformation
The Ethiopian Government has re-established ASTU as a model Science and Technology University. Be an active member!
R

ide on the fast-track for advanced degree

Combine your BSc and MSc together to earn both degrees in a shorter time. ASTU offers a unique road for it!
E

nrich your knowledge through e-learning

You will be electronically connected through digital libraries, internet connection, electronic books, etc.
E

arn dual-major degrees

Earn "dual-major degree", a degree in two different areas. ASTU provides a unique way for it!