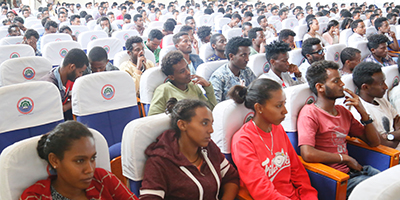 Assit. Prof Mihretu Shanko has delivered a special motivational speech at Adama Science & Technology University. The session was organized for first-year students. The managing council also attended the session. The theme of the session was, "The road of visionaries". Mr. Mihretu used this theme effectively to inspire the students to plan their career development. He encouraged the students to plan about excelling at higher levels than being preoccupied with routine obstacles that they face. He underscored that challenges are meant to strengthen, but not to derail mankind.
Mr. Mihretu, a well versed energetic motivator, made a lively presentation filled with perfectly fitting anecdotes. The audiences were lost for words of appreciation for the presenter and the manner of presentation. The audience applauded the presenter many times. Those who attended the session have suggested that ASTU shall keep up organizing more inspirational sessions for all its community.
Well done!!
Office of Academic Affairs
Adama Science and Technology University, ASTU, is one of the two science and technology universities established to support the industrial development of the nation by producing competent and leading graduates in science and technology fields. The university is working aggressively to produce qualified, competent, and socially responsible professionals in the fields of science and technology through promoting research oriented science and technology education. The academic wing has taken the leading role to ensure quality education which helps to realize the goals and ultimately the mission of ASTU. The academic affairs office was established under the Vice President for Academic Affairs (VPA) to lead all academic and academic-related matters of the university.
Main Activities
Coordinate educational plan and its operation in all Schools
Supervise all matters related to the revision and maintenance of curriculum in all Schools in accordance with the relevant rules and regulation of the university,
Supervise the implementation of quality assurance measures in academic activities,
Coordinate and monitor the delivery of intra-School programs and courses,
Develop the course catalogue and periodically updates the catalogue following curriculum revisions,
Administer all aspects of academic activities of academic staff including cost budgeting,
Follow up, supervise and ensure that the academic staff recruitment is in accordance with rule and regulations of the university,
Supervise, control and direct human resource management Program's of the academic staff.
In cooperation with Schools, assess the overall academic man power requirement of the university,
Handle scholarship matters of the academic staff in accordance with the existing rules and regulation,
Facilitate the development of criteria and guidelines about the administration of academic staff scholarship and ensures its implementation,
Maintain all needed information and statistics regarding academic affairs
Supporting the development of our academic staff by providing them with the environment, resources, technology and time to be able to develop and innovate as a teacher