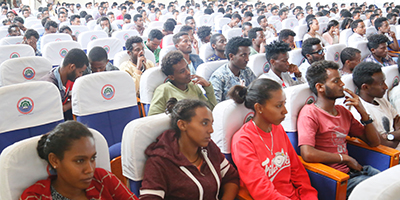 Assit. Prof Mihretu Shanko has delivered a special motivational speech at Adama Science & Technology University. The session was organized for first-year students. The managing council also attended the session. The theme of the session was, "The road of visionaries". Mr. Mihretu used this theme effectively to inspire the students to plan their career development. He encouraged the students to plan about excelling at higher levels than being preoccupied with routine obstacles that they face. He underscored that challenges are meant to strengthen, but not to derail mankind.
Mr. Mihretu, a well versed energetic motivator, made a lively presentation filled with perfectly fitting anecdotes. The audiences were lost for words of appreciation for the presenter and the manner of presentation. The audience applauded the presenter many times. Those who attended the session have suggested that ASTU shall keep up organizing more inspirational sessions for all its community.
Well done!!
ACADEMIC STANDARD AND QUALITY ASSURANCE DIRECTORATE (ASQAD)
Assefa Abahumna (PhD), Dean
Email- asqaThis email address is being protected from spambots. You need JavaScript enabled to view it.
Overview
The Ethiopian Higher education proclamation recommends that every institution shall have a reliable internal system for quality enhancement that shall be continuously improved". Concerning the focus of the internal quality enhancement system, the proclamation states that every institutions should provide a clear and comprehensive measures of quality covering professional development of academic staff, course contents, teaching-learning processes, student evaluation, assessment and grading systems, which shall also include student evaluation of course contents together with the methods and systems of delivery, assessment, examinations and grading. In line with this national legal framework and institutional context, ASTU has instituted an internal quality assurance system called Academic Standard and Quality Assurance Directorate.
ASQAD is an internal quality assurance organ of ASTU, which is directly accountable to the president of the University. It has the responsibility of supporting and monitoring the quality of inputs, processes and outputs of the different wings of the University with special emphasis on how they are accomplishing their activities against their plan and the already set working standards aiming at ensuring academic quality and relevance in the University.
ASQAD coordinates all the quality assurance activities in each school. To this end, the directorate has two officers and secretary. The office also has different quality related committees both at school and department levels. The directorate is mandated to oversee every activity relevant to enhance the quality education, research, training, community development, and other services of the university so as to contribute its share for the achievement of the vision and mission of ASTU.
Mission
ASQAD mission is to improve the quality of science and engineering education, research and technology transfer by coordinating various schools, institutions and all the members of ASTU community. ASQAD believed that quality of education and research in ASTU can be attained through common efforts and positive attitudes towards quality. Hence the directorate shall workman in hand with all schools, institutes, directorates and other stakeholders to reduce academic nepotism, create link between university and industry and other economic sectors.
Vision
ASQAD vision is to make ASTU as excellent center for quality science and Engineering University in which ethical and competent graduates are produced, conduct problem solving research and community services in 2025.
Objectives
• Assess the quality and relevance of academic programs at all levels.
• Initiate and coordinate the quality and relevance review of all programs.
• Ensure the existence of quality assurance strategies across schools.
• plan and design procedures of quality assurance review of curriculum across schools
• Provide leadership and exerts in the development and maintenance of an effective quality assurance model in science and engineering education in ASTU.
• Running the internal and external audit system in ASTU
• Facilitate staff development workshops regarding academic quality assurance to the university academic staffs.
• Carryout education quality competitions and establish rewarding systems on regular basis for academic units, programs and instructors.
• Prepare and submit regular activities plans and performances reports of activities of the directorate.
• Conduct tracer study of the graduates on the regular basis.