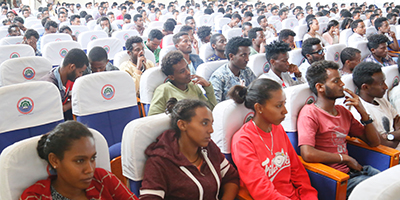 Assit. Prof Mihretu Shanko has delivered a special motivational speech at Adama Science & Technology University. The session was organized for first-year students. The managing council also attended the session. The theme of the session was, "The road of visionaries". Mr. Mihretu used this theme effectively to inspire the students to plan their career development. He encouraged the students to plan about excelling at higher levels than being preoccupied with routine obstacles that they face. He underscored that challenges are meant to strengthen, but not to derail mankind.
Mr. Mihretu, a well versed energetic motivator, made a lively presentation filled with perfectly fitting anecdotes. The audiences were lost for words of appreciation for the presenter and the manner of presentation. The audience applauded the presenter many times. Those who attended the session have suggested that ASTU shall keep up organizing more inspirational sessions for all its community.
Well done!!
Vision
ASTU aspires to be the first choice in Ethiopia and the premier center of excellence in applied science and technology in Africa by 2030.
Mission
The mission of ASTU is to provide ethical and competent graduates in applied science and technology through quality education, demand driven research and community service. ASTU also provides innovative knowledge to support the socio-economic development of the nation.
Core Values
Originality and Innovativeness
Academic freedom and integrity
Sense of belongingness and ownership
Nurturing diversity
Transparency and accountability
Professional ethics
Responsiveness