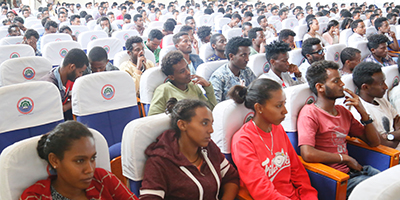 Assit. Prof Mihretu Shanko has delivered a special motivational speech at Adama Science & Technology University. The session was organized for first-year students. The managing council also attended the session. The theme of the session was, "The road of visionaries". Mr. Mihretu used this theme effectively to inspire the students to plan their career development. He encouraged the students to plan about excelling at higher levels than being preoccupied with routine obstacles that they face. He underscored that challenges are meant to strengthen, but not to derail mankind.
Mr. Mihretu, a well versed energetic motivator, made a lively presentation filled with perfectly fitting anecdotes. The audiences were lost for words of appreciation for the presenter and the manner of presentation. The audience applauded the presenter many times. Those who attended the session have suggested that ASTU shall keep up organizing more inspirational sessions for all its community.
Well done!!
"Inking an agreement with industries is not an end by itself: it is a means to realize the aforementioned goals."
It is often noted that our poverty is attributed to lack of education. Thus, in recognition of the country's need, our government has set a policy and is actively engaged in reducing poverty level. One of the strategies in this regard is the creation of efficient, capable and problem-solving workforce through networking University and industry in tackling our long history often associated with poverty. One of the biggest challenges in achieving the objectives of the university reform is to improve the mismatch between university produces and the market demand of educated workforce. In order to overcome such challenges, establishing strong University-Industry Linkage (UIL) is imperative.
ASTU has ventured international as well as local attachment agreements as per Higher Education Proclamation No. 650/2009 Article 25(5) that states: "Every public institution shall have the responsibility to forge relations with industries for mutual benefits and on the basis of principled and transparent negotiations and agreements." Likewise, as one of its core objectives, the Strategic Plan of ASTU states that it is committed to "design and implement practice oriented academic programs with due consideration to University-industry linkage". In line with these guiding documents, ASTU has already signed memorandum of understanding with the following local industries and organizations:
Some of ASTU's UIL
The National Association of Ethiopian Industries
Ethiopian Sugar Industries Support Agency
Matahara Sugar Factory
Yeha Science and Technology Academy
Yeha National Resources Management Institute for Eastern Africa
Adama Spinning Factory
Micro Business College-West Shoa
Wonji Pulp and Paper Company
Ethiopian Society of Mechanical Engineers, and Ministry of Mines and Energy
Mugher Cement Factory