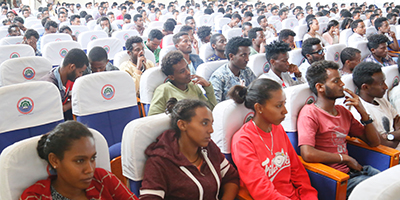 Assit. Prof Mihretu Shanko has delivered a special motivational speech at Adama Science & Technology University. The session was organized for first-year students. The managing council also attended the session. The theme of the session was, "The road of visionaries". Mr. Mihretu used this theme effectively to inspire the students to plan their career development. He encouraged the students to plan about excelling at higher levels than being preoccupied with routine obstacles that they face. He underscored that challenges are meant to strengthen, but not to derail mankind.
Mr. Mihretu, a well versed energetic motivator, made a lively presentation filled with perfectly fitting anecdotes. The audiences were lost for words of appreciation for the presenter and the manner of presentation. The audience applauded the presenter many times. Those who attended the session have suggested that ASTU shall keep up organizing more inspirational sessions for all its community.
Well done!!
Background
Legal Matters Directorate is one of the Offices organized at a directorate level and is directly accountable to the University's President. The major tasks of the directorate are providing consultancy services to ASTU's Officials and Offices and defending the University's interests at the court. Legal Matters Directorate is led by a director and has one coordinator, two legal officers, one secretary and one office assistant.
Vision
Legal Matters Directorate aspires to become the prominent part of the new ASTU and an office on which the University relies on for its reliable legal service.
Mission
Legal Matters Directorate is committed to provide quality legal consultancy service to ASTU's Officials and Offices and defending University's interests at courts. In the meantime, it tries to ensure the prevalence of rule of law in the University and endeavors to raise legal awareness of the University's Community.
Main Services Offered by Legal Matters Directorate
Providing legal consultancy services;
Representing the University at courts of law;
Drafting internal rules and regulations of the University
Drafting contracts;
Witnessing singing of contracts;
Following up the performance of contracts; and
Creating legal awareness on new legislations and other pertinent laws.
Procedures for getting service
Legal Matters Directorate does not require users to follow up any special procedure in order get service. Any Office, Officer or employee of the University may get services concerning University's business from Legal Matters Directorate by using the following means of communications:
Letters;
E-mails;
Telephone conversation; and
By appearing in person during office hours.