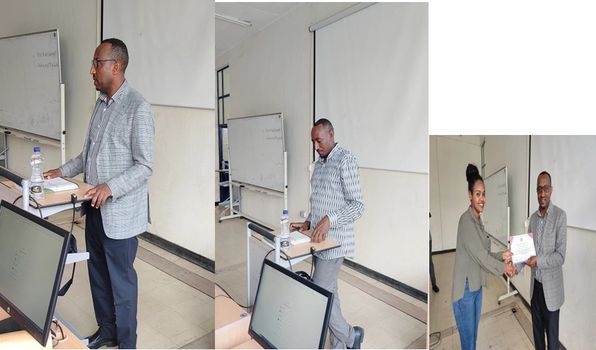 Adama Science and Technology University (ASTU) in collaboration with Construction Management Institute (CMI) organized Building Information Modeling (BIM) training which was held in ASTU from August 20, 2023 to September 4, 2023.
Twenty-two staff from School of the school of Civil Engineering and Architecture, School of Mechanical, Chemical and Materials Engineering and School of Electrical Engineering and computing, and ASTU Construction Office successfully completed the training. The trained staff members were certified by Autodesk Authorized Training Center after receiving training in BIM-Structure, BIM-Architecture, BIM-MEP and BIM-Project Management Technologies.
During the closing ceremony, Dr. Alemu Disasa, Vice President for Research and Technology Transfer, remarked that various countries in the world transformed their construction industries to digital system by adapting and innovating technologies for the economic growth of their countries. In Ethiopia, we need to urgently improve the competency of the sector through the adaptation, innovation and application of new technologies to solve the prevailing problems and achieve sustainable development of the industry. Dr. Alemu, also reiterated that digitizing construction industry and improving its role in socio-economic development of our country shall be of utmost priority nowadays. He further noted that as ASTU has become the coordinator of the eastern zone university- industry linkage, the trainees who completed this training shall share their knowledge and skill to others.
Ing. Feleke Asefa, the director of directorate for institute of technology transfer, underscored that the institute has been striving to modernize construction Industry to ensure the ever-increasing demand for infrastructure. This BIM training is one of the efforts of the Institute to implement new technologies to the construction industries. To expand and facilitate the accessibility and implementation of BIM technology in the construction industry, the role of the Universities is the key. Thus, CMI is deemed to collaborate with the Universities to realize the plan. At the end of the event, certificates were awarded to the staff members who completed the training and trainers. In addition, CMI is recognized for its willingness to work with ASTU.
#We are dedicated to innovative knowledge!