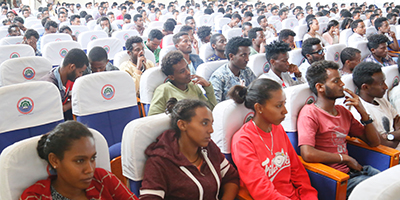 Assit. Prof Mihretu Shanko has delivered a special motivational speech at Adama Science & Technology University. The session was organized for first-year students. The managing council also attended the session. The theme of the session was, "The road of visionaries". Mr. Mihretu used this theme effectively to inspire the students to plan their career development. He encouraged the students to plan about excelling at higher levels than being preoccupied with routine obstacles that they face. He underscored that challenges are meant to strengthen, but not to derail mankind.
Mr. Mihretu, a well versed energetic motivator, made a lively presentation filled with perfectly fitting anecdotes. The audiences were lost for words of appreciation for the presenter and the manner of presentation. The audience applauded the presenter many times. Those who attended the session have suggested that ASTU shall keep up organizing more inspirational sessions for all its community.
Well done!!
Thursday, 02 August 2018 21:38
ASTU Graduates Students in Various Fields of Study
Written by Super User
Adama Science & Technology University, colorfully graduated 1844 students on July 7, 2018. Out of the total number of graduates, 1769 saw through their undergraduate degrees while the remaining 75 were postgraduate of which one (1) student earned his PhD. The number of female graduates accounts 22%.
Guest of honor of the ceremony H.E. Dr. Engineer Getahun Mekuria, Minister of Science & Technology, handed out degrees and awards for most outstanding graduates.
Dr. Lemi Guta, President of Adama Science & Technology University, warmly congratulated the graduates and families. He stated that the university is taking the leading role in producing skilled manpower that can help to transform the country. He further reaffirmed that the university is diligently working to become research hub in science & technology.
The president also noted that the university is undertaking initiatives for improving, teaching-learning, university-industry linkage, research, community service, and technology transfer to make its contribution in accelerating the transformation of the country.
Extending his congratulation message to all graduates, H.E. Dr. Engineer Getahun Mekuria, Minister of Science & Technology, acknowledged ASTU's unmatched contribution in producing skilled engineers for the country. He stated that the appointment of Dr. Abiy Ahmed as Prime Minister of the country has created conducive condition for galvanizing the economic development of the nation. He further noted that to emancipate the country from poverty and transform to holistic prosperity, the government has set strategies and policies that will pave the way for its achievement.
"The overall economic revolution underway in the country can be realized through well educated and competent manpower that can bring breakthrough in transforming the intended agrarian economy to industry led economy," the minister stated.
Present on the ceremony were state ministers, bureau heads and invited guests. The program was televised live on OBN.
Leave a comment
Make sure you enter all the required information, indicated by an asterisk (*). HTML code is not allowed.