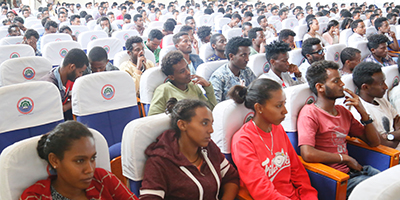 Assit. Prof Mihretu Shanko has delivered a special motivational speech at Adama Science & Technology University. The session was organized for first-year students. The managing council also attended the session. The theme of the session was, "The road of visionaries". Mr. Mihretu used this theme effectively to inspire the students to plan their career development. He encouraged the students to plan about excelling at higher levels than being preoccupied with routine obstacles that they face. He underscored that challenges are meant to strengthen, but not to derail mankind.
Mr. Mihretu, a well versed energetic motivator, made a lively presentation filled with perfectly fitting anecdotes. The audiences were lost for words of appreciation for the presenter and the manner of presentation. The audience applauded the presenter many times. Those who attended the session have suggested that ASTU shall keep up organizing more inspirational sessions for all its community.
Well done!!
Tuesday, 30 January 2018 03:39
Ministry of Science and Technology Hosts a National Exhibition
Written by Super User
Ministry of Science and Technology (MoST) hosts its 3rd National Exhibition entitled, "Science, technology and Innovation for Rapid Structural Transformation and Sustainable Development in Ethiopia." The Exhibition was held from November 13-15, 2017 at MoST compound.
In the Exhibition, different public and private organizations participated. Researchers and innovators have shown their ability to create, develop and make practical use of new scientific discoveries that contribute for the national economic growth.
The exhibition was officially opened by Deputy Prime Minister, H.E Ato Demeke Mekonen. He said that public higher learning institutions, research institutes, private sectors constitute an essential part in creating new technologies and innovation. But they need to have closer links to business and the public sector in order to find practical applications for new scientific discoveries and to transfer knowledge. He also urged relevant government offices to establish value chain system for these public institutions and private sectors.
Exhibition presenters from Adama Science and Technology University displayed multipurpose cutting and grinding machine for ceramic, terrazzo, tiles, metals, wood and floor covering materials, ceramic water filter, automated electronic switch, vital event recording software, health center clinic management system and different architectural models.
H.E Eng. Dr. Getahun Mekuriya, Minister for Ministry of Science and Technology mentioned that the Ministry is providing substantial research to researchers and innovators once their proposal is accepted and believed to support the socio economic development of the country. He added that identifying successful innovative ideas and spreading of best practices among universities, research institutes and the society at large would be given much attention by the Ministry.
The exhibition was concluded on November 18, 2017 at African Union Hall by awarding best researchers and innovators from different public and private sectors.
Leave a comment
Make sure you enter all the required information, indicated by an asterisk (*). HTML code is not allowed.